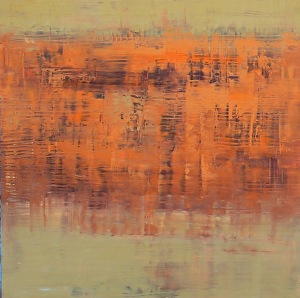 The "War Bonnet" series unfolded quickly with an energy to tell its story. The wordless story came as an engulfing breeze pushing me along. With each beginning there was a time to let go and let the paint present its quiet resolution. The mixture of color shown through the quill like textured ridges and long sweeping shapes translate the migration for the people of earlier times. The land of the plains and its people have given me the inspiration to paint this series. There was a need to paint these works and "Follow the Sound of the Drums".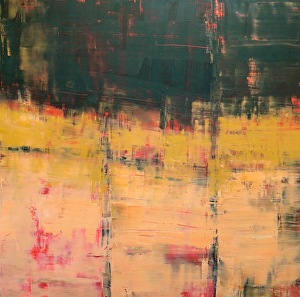 This collection represents a sampling of Larger Works. More larger paintings can be found in the Water Works and War Bonnet collections.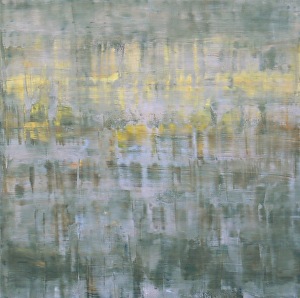 There is a creek that runs through the land I call home. It has a life powerful and strong and then it whispers and finally sleeps. As I watch the creek in winter the water pushes forward with its powerful momentum. The water is high and purges what ever is in its path until it is drowned or thrown to the side. Nothing is left untouched. Tall trees are sometimes toppled after years of enduring the creek's relentless force. Then as quicly as the creek has become the harlot of the land it softens and quiets and makes love to the sun. There is just a quet rippling of light and shadow. The creek is alive and must find its path to be all it can be. Then it slows and finally the last bit of moisture is swallowed by the sands of the creek bed. To view the creek through all seasons and see the creek move with the impetus of nautre it is hard to believe it will slow and disappear into the earth. The ebb and flow of the creek is what I have painted.






My paintings have transformed themselves from representational to abstract works in the last year. The new work has been an awakening, revealing the inner spirit of my heart. The paint moved from palette knife to canvas releasing the paint to tell its own story. My hand held the energy from within as the mixing of paint colors ignited and nature's beauty emerged.
This collection represents a sampling of Smaller Works. More small paintings can be found in the Water Works and War Bonnet collections.
Ruth Andre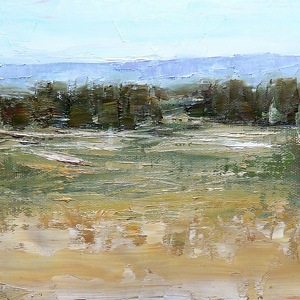 My home is in the northern California foothills. I live in a small valley with a creek that guides the way between the tall mountains. The landscape is there to paint its endless views. It is quiet and still and always beautiful no matter the season.
Ruth Andre